Wix Pro Gallery: An Overview
With the Wix Pro Gallery you can display videos, images and text all in one beautiful multimedia gallery. Your gallery is responsive, meaning no matter what device your visitors use, your gallery adjusts automatically to their screens.
It's perfect for photographers and creatives alike, with built-in image protection to keep your content safe. You can even upload content on the go directly from the Wix Owner app.
The gallery is fully customizable, allowing you to perfect your gallery's layout and design for desktop and mobile users. You also have access to general and advanced settings. These allow you to engage your visitors with social share options, increase site traffic with SEO settings, and connect your gallery to a dataset.
---
Prepare your Pro Gallery for desktop
---
Optimize your Pro Gallery for mobile
---
Let visitors take a closer look at images
Set your images to open in a pop-up window (Expand Mode) when clicked. You can also customize the look and behavior of this pop-up. Choose what information is shown, allow visitors to zoom in on details with a magnifying glass, adjust the background and icon colors, and more.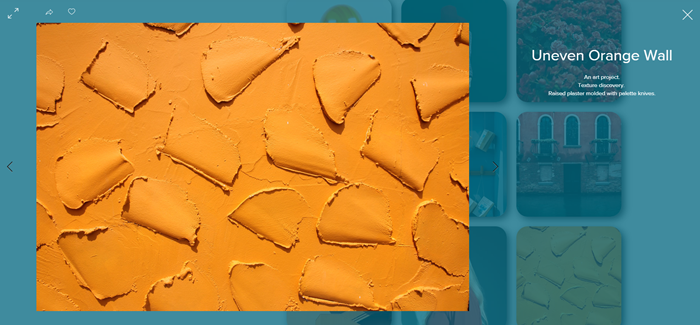 ---
Manage your Pro Gallery on the go
Using the
Wix Owner app
, you can manage all your Pro Galleries on the go. Quickly and easily add and remove media from your gallery, reorder and rename media, share your gallery with others via social networks, and much more.
---
Increase visitor engagement through social sharing
Generate traffic back to your site and increase engagement by allowing visitors to
like
and share their favorite gallery items to their social networks. Your visitors can share their favorites via Facebook, Twitter, Tumblr, Pinterest and email.
---
Boost your gallery's reach with SEO
Working with
your site's SEO Settings
for your Pro Gallery can help it rank higher in search engine results and drive traffic to your site.
Adding alt text
to your gallery items also helps search engines understand and rank your gallery and its content.
---
Connect your Pro Gallery to the CMS
Create and store your media in a collection with the CMS (Content Management System) to help you manage the content you display on your Pro Gallery. Then, connect your collection to your Pro Gallery and display multiple items from your collection at once.