Wix Pro Gallery: Choosing a Wix Pro Gallery Layout for Your Mobile Site (Custom vs. Presets)
The layout of your Pro Gallery on your mobile site is responsive, meaning it automatically adjusts to fit different screen sizes and devices. You can choose a completely different layout for your Pro Gallery so that it looks ideal for mobile.
Select a preset layout with built-in features or a custom layout if you prefer customizing the layout on your own. Whichever layout option you choose, you can always customize the gallery's design.
In this article, learn more about:
---
Custom layouts
These gallery layouts allow you to design and customize your Pro Gallery from scratch. You can choose from a wide range of customizable layouts to best present your media on mobile devices.
To customize the layout on your mobile site:
Go to your mobile Editor:

Wix Editor: Click the Switch to Mobile icon at the top of the Editor.
Editor X: Click the relevant breakpoint at the top of Editor X.

Click the Wix Pro Gallery in your mobile Editor.
Click Settings.
Select a layout for your gallery.
Click Customize Layout to change the layout to look exactly as you want (see Customizable Layout Features below).
Note:
There are no navigation arrows in the expanded view. Instead, visitors swipe the screen to view the next gallery item.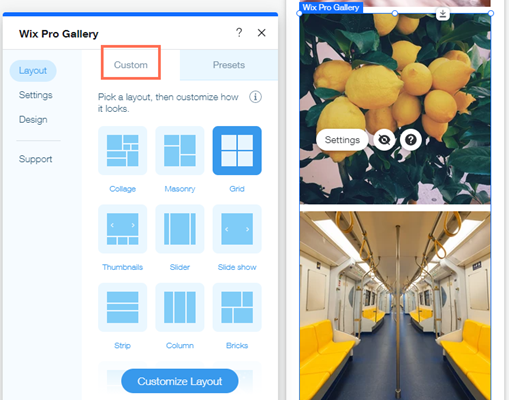 ---
Preset layouts
Preset templates include a range of built-in layout features. These ready-made gallery layouts allow you to speed up the process of showcasing your images on your site. While the layouts themselves are not customizable, you can personalize the gallery's design from the Design tab.
To choose a preset layout:
Click the Wix Pro Gallery in your mobile Editor.
Click Settings.
Click the Presets tab.
Select a layout for your gallery.
---
Customizable layout features
Each customizable layout offers a range of settings you can personalize, including scroll direction, gallery direction and image orientation.
Click an option below for more details on that layout:
Bricks, Mix and Alternate
---
FAQs
Click a question below to learn more about layouts in the Pro Gallery:
Is the Wix Pro Gallery responsive?
Why are some of my images cropped when added to the Wix Pro Gallery?
Having issues with the Pro Gallery on mobile?