Wix Events: Messaging Guests Using the Wix Owner App
Provide guests with additional information about your event or announce last minute changes using the Wix Owner app. You can also send a broadcast message to everyone at once with Wix Chat or email.
Guests who already downloaded a members app (e.g.
Spaces by Wix
) receive a broadcast message there. If they haven't downloaded the member app, they receive your message as an email instead.
Note:
When sending a message to over 100 guests, you are directed to do so through Gmail.
To send a message to guests:
Go to your site in the Wix Owner app.
Tap Manage at the bottom.
Tap Events.
Tap Published Events.
Tap the relevant event.
Tap the Message icon at the top right.
Select Message guests.
Tap to select which groups you want to contact and tap Next.
Tap the channel drop-down and select how you want to send your broadcast:

Chat: Send a live chat broadcast to guests. To use this option, you must have the Wix Chat app on your site.
Email: You can send a broadcast email to customers if they have provided their email address and it is saved in your contacts.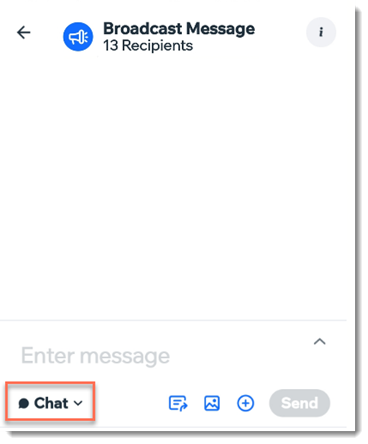 Compose the message to send to your selected contacts.
(Optional) Tap the icons to add a saved reply, add an image, or send an item, such as a coupon.
Tip:
If you have an event that is in progress or starts in less than 24 hours, a shortcut appears at the top of the event list. Tap the
Loudspeaker
icon to broadcast a message.