Email Marketing: About Your Email Marketing Dashboard
Your Email Marketing dashboard is your one-stop-shop for growing and engaging your audience. This is where you go to create, edit and keep track of your email campaigns.
---
Use pre-built email templates or start from scratch
---
Customize your sender details for a professional look
You have total control over the
sender details that appear
when your campaigns hit your audience's inboxes. Set sender details (name and reply-to address) that will be familiar to your audience – this can increase the trust in your campaigns which can lead to better
sender reputation
.
---
Import and keep track of your subscribers
---
Get insights into how your campaigns are performing
Make changes to your campaigns based on the data you're seeing in the Email Marketing dashboard. You can view
campaign insights
for every email you sent, including all of the standard deliverability statistics such as open rate, bounce rate, spam rate and more.
---
Manage all of your campaigns in one place
Make changes to your campaigns at any point, directly from the Email Marketing dashboard. Edit the content of your emails, the design and even your sender lists. You can reuse campaigns that have been shown to perform well with your audience, or remove those that are no longer relevant.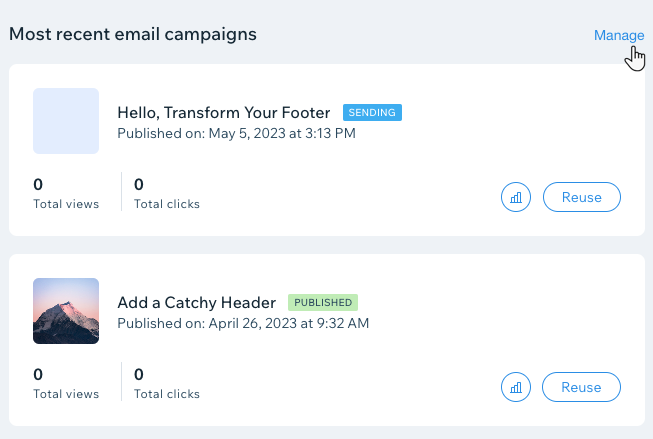 ---
Keep track of your monthly send balance
Use the
monthly send balance
, displayed in your Email Marketing dashboard, to make sure you're within the sending limit for your current plan. One "send" equals one email sent to one recipient. Each plan gives you a certain monthly allowance of emails to send to recipients per month.