Wix Multilingual: Translating Your Online Programs
Expand your
Online Programs
to a wider audience using Wix Multilingual. Translate your programs manually, or with Auto-translate, directly from the Multilingual dashboard.
Note:
Currently, it is only possible to translate published and active programs.
To translate your online programs with Wix Multilingual:
Click the Switch Languages panel in the top left side of the Editor.
Click Manage Languages.
Click Your Business Content.
(If necessary) Click the language drop-down to select the relevant language.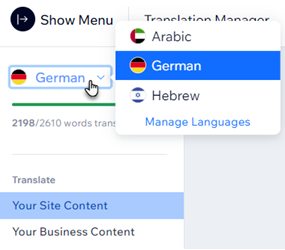 Click Translate next to the relevant program type, for example, "Self Paced Programs".
Click Translate next to the relevant program.
Enter a translation for each piece of text, or click the Google Translate icon to automatically translate. Once you have reviewed the translation, click the checkmark to save your changes.
Click Next Item to move to the next gallery.