Pricing Plans: Creating a Free Plan
Let customers try your services before committing to a full membership plan or package by creating a free promotional plan that customers can book only once.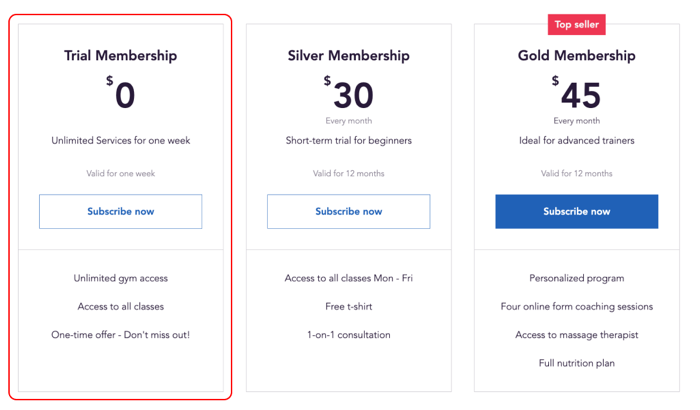 In this article, learn more about:
---
Creating a free plan
Free plans are a great way for potential clients to get to know you and your business. You can choose whether you want to offer the plan for free or for a reduced price.
To create a free plan:
Go to Pricing Plans in your site's dashboard.
Click + Create Plan.
Enter your plan's details in the Plan Info section:

Enter the plan name.
(Optional) Enter a tagline with a brief description of the plan.
Add benefits under List what's included in this plan.
Note: What you enter here is what your clients see. It does not connect services or content to the plan (see the next step).

Scroll down to Other benefits.
Select the checkbox next the services or content types you want to include.
Add the relevant details (e.g. the specific services that are included).
Select Free under Pricing options.
Choose the duration from the Length of Plan drop-down:

3 months
6 months
2 years
Until canceled
Note: If you select "until canceled", you cannot disable the "Allow plan cancelation toggle" under Settings.
Custom: Choose the duration of the plan from the Choose period drop-down (weeks, months, years) and enter the relevant number.

Scroll down to Settings.
Choose how you want to adjust your free plan's settings:
Limit to a single purchase
Let people choose their start date
Add custom form fields for clients to fill
Customize a Thank You page
7. Click Save at the top to finish creating your plan.
---
Enabling guest checkout
You can allow visitors to your site to join your free plan without signing up or logging in. This is a great way to attract new clients who aren't sure they want to commit right away.
Important:
This feature isn't available to everyone yet.
To enable guest checkout:
Go to Settings in your site's dashboard.
Click Pricing Plans Settings.
Enable the Guest Checkout toggle to let people buy a plan without signing up to your website.
Click Save.