Pricing Plans: Allowing Guest Checkout on Your Site
Let visitors to your site buy your pricing plans without having to sign up or log in. Enabling guest checkout makes it easier for site visitors to become loyal customers.
In this article, learn more about:
---
Enabling guest checkout for pricing plans
Enable guest checkout to let visitors sample your pricing plans, without becoming full members of your site right away.
Visitors who go through guest checkout automatically become
contacts
. They also receive an email with a link to create a member profile on your site, should they wish to do so.
Note:
For plans that include online content and services, visitors need to sign up as site members to gain access.
To enable guest checkout:
Go to Settings in your site's dashboard.
Click Pricing Plans Settings.
Enable the Guest checkout toggle at the bottom.
Click Save at the top right.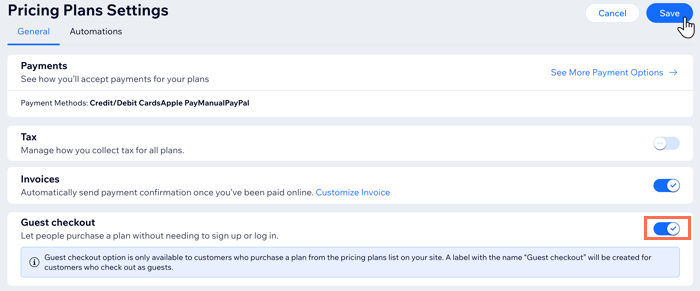 ---
How guest checkout looks on your site
After you enable guest checkout, site visitors can buy your plans without signing up to become a site member. They begin by choosing the plan they want to buy. Then, they have the option of logging in or continuing as a guest.
Visitors then enter their payment details as normal and continue.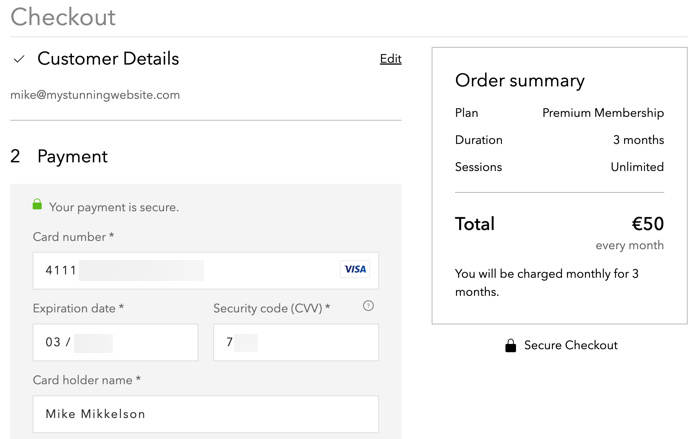 When payment is complete, they receive an email with the details of their purchase.