Pricing Plans: About Recurring Plans
Important:
The article below discusses the Wix subscriptions app Pricing Plans. If you're looking for information about upgrading your site with Wix Premium plans, please check
this article
.
Offer your clients subscriptions that automatically renew weekly, monthly, or yearly.
Be sure to also set the overall length of a plan. For example, you can create a plan that renews every month for a year. At the end of the year, the plan expires. You can also create a plan that continues to renew until cancelled.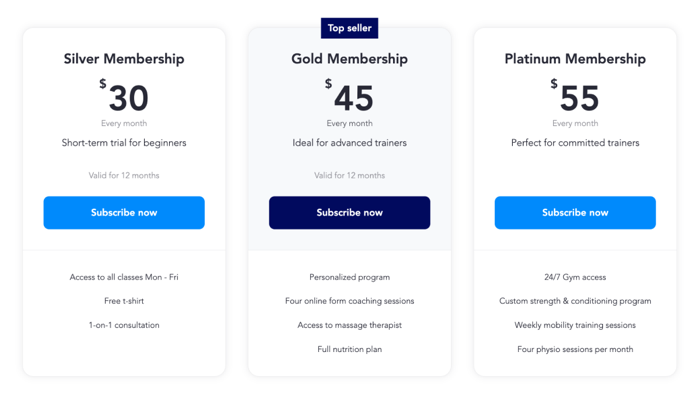 Tip:
Both membership plans and packages can be recurring plans.
---
Creating recurring plans
When you are creating a plan, select
Recurring Payment
as your payment type. You can then set the price, payment frequency and length of plan. You can also give a free trial to encourage new clients to sign up.
---
Canceling plans with recurring payments
When you
cancel a plan
with a recurring payment, you choose when the cancellation takes effect. For example, for plans that renew monthly, you may want to let clients keep access to services and content until the end of the current month.
On the other hand, with a plan that occurs yearly, you may want access to end as soon as you cancel the plan.
---
Changing payment methods
If you choose to
switch payment providers
, you must first cancel all active recurring plans, switch providers, and then ask your clients to repurchase the same plan.
---
Dealing with failed payments
When a client's credit card is cancelled or expires, or when there are insufficient funds to cover the subscription, you do not receive payment. This automatically cancels your client's plan.
If the client wants to continue their subscription with a new credit card, they need to purchase a new plan.