Accessibility: About the Accessibility Wizard
Use the Accessibility Wizard to identify and fix accessibility issues on your site. This tool, offered by Wix, scans your entire site and provides actionable solutions to make your site accessible to all, including those with disabilities and impairments.
Important:
While Wix is always striving to improve our products and services, we cannot guarantee that your site will be compliant with your region's accessibility laws and regulations after using the Wizard. We recommend consulting an accessibility expert to ensure that your site is meeting the standards for your region.
Learn more about:
---
Automatic Scanning in the Wizard
Once you open the Accessibility Wizard, you are prompted to allow the Wizard to scan your site. This scan may take a few minutes.
The Wizard then highlights what it has found. It does this by searching through your site for components or settings that may cause issues, such as color contrast and heading definition.
This step is a great way to get started on making your site accessible. It's a quick and easy process, and can make a big difference to your site visitors.
---
Actionable Solutions
After you have completed the automatic section of the Wizard, you are shown a list of things to keep in mind and adjust on your site.
The Wizard highlights areas on your site to review and correct. You can see detailed guidelines on how to adjust the relevant elements and settings.
We recommend going through this section step by step, as it's a great opportunity to manually check your site for any potential issues.
---
Advanced Accessibility Settings
To further improve your site's accessibility, the Wizard points you to helpful settings you should enable, such as automatic DOM order and visual indicators.
Select the collapsible below to learn more about the settings you can enable.
Advanced accessibility settings
After completing the
steps
in the Wizard, we recommend enabling these settings to ensure your site is as accessible as possible.
Show me how to enable the advanced settings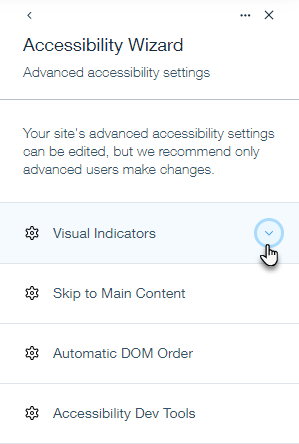 Ready to get started?
Learn how to use the Accessibility Wizard
here
.