Wix Retail POS: About the Retail POS Pro Plan
Important:
Merchants using Retail POS before October 25, 2023, can continue enjoying all the pro features without a pro plan.
When you get started with Retail POS, you're automatically assigned the free Retail Lite plan. This plan allows you to create products, manage inventory, make sales using a variety of payment methods, and more.
To get more out of your point of sale, purchase a Wix Retail Pro plan and take advantage of these extra features and options.
---
Retail Pro benefits
Upgrade to enhance your retail business operations. You can add staff members, accept external payments, let customers redeem loyalty points, and more.
More staff members
The Retail Lite plan allows you to create passcodes for yourself and 2 staff members. Switch to pro to add more staff members to your team.
Note:
The maximum number of staff members is determined by your Wix Premium plan (see the FAQ below for more details).
Allow customers to exchange items
Allow customers to bring a product back and exchange it for a different one. Note that both Retail Lite and Retail Pro users can process refunds.
Staff member time tracking
Stay on top of your business by tracking your staff members' hours. View the hours each staff member put in during a time period, or select a staff member to view more details.
Redeem loyalty points
If you created a
loyalty program
, customers can earn and redeem loyalty points in your online store. With the Retail Pro plan, customers can also earn and redeem loyalty points at your brick-and-mortar store.
Receive any type of payment (e.g. Venmo)
Accept any kind of payment method using the "Other" payment method during checkout. This allows you to accept payment through a gift card or app that isn't integrated with the POS system.
---
Upgrading to a Retail Pro plan
Alternatively, you can go to the Point of Sale tab in your site's dashboard, and click Upgrade to Pro.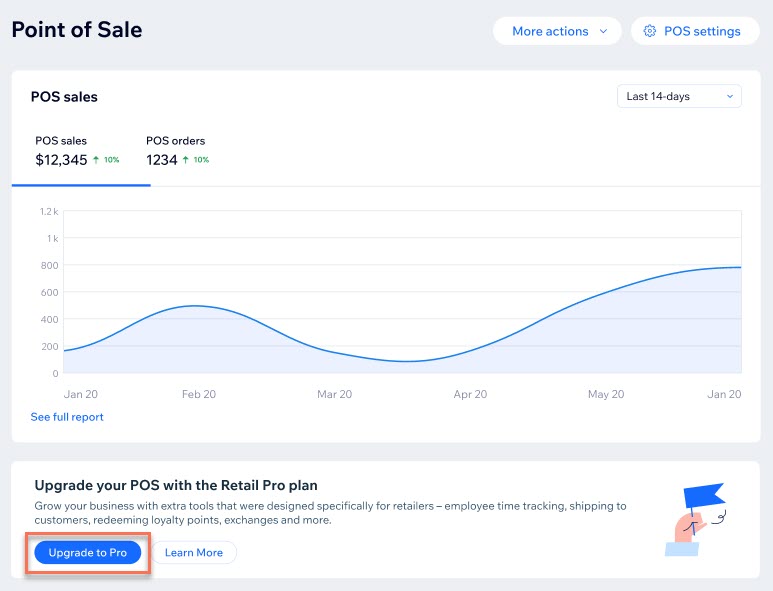 ---
FAQs
Click a question below to learn more about the plans.
Do I need a Wix Premium plan if I upgrade to a Retail Pro plan?
How many staff members can I add with a Retail Pro plan?
Can my customers earn loyalty points if I use the Retail Lite plan?