Wix Media: About the Media Manager
The Media Manager contains all the media files on your site such as images, videos, audio, docs and vector art. It also contains libraries of free Wix media, Unsplash and Shutterstock media.
Each site in your account has its own Media Manager. This helps you and your site contributors work more efficiently as everybody who is working on the site has access to all the relevant media files.
This article covers the following topics:
---
Accessing the Media Manager
There are several ways to access the Media Manager; almost everytime you work with media files on your website, you are directed to it. For example, the Media Manager opens when you are adding an image, creating an email marketing campaign, or adding a product to your store.
Wix Editor
The simplest way to access the Media Manager to organize your files is by clicking the Media icon on the left menu of the Editor.
Editor X
You can access the Media Manager from Editor X in different ways depending on what you're trying to do.
---
Understanding the Sections of the Media Manager
Your Media Manager is split into different sections. The tabs on the left side organize your media files to help you find and manage them more easily. On the right side, you can edit specific details of a selected file.
---
Uploading Files to the Media Manager
Add files to your Media Manager to make them readily available for you to use at any time. You can:
Upload your own files
Import from your social networks
Import media files from other Wix sites in your account
Add a file using a URL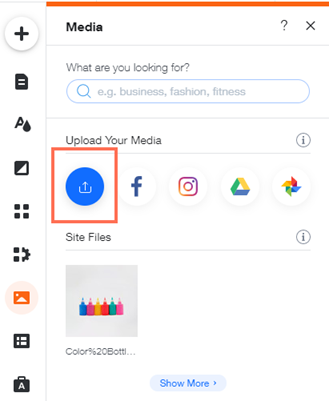 ---
Tools inside the Media Manager
Use the tools at the top of the Media Manager to find and organize your files.