Wix Editor: About Sections
Sections are a quick and easy way to structure your pages. Use them to organize your site's content, and create a clear, comprehensive design. There are a variety of predesigned sections available with different layouts and elements, so you have everything you need to get started.
---
Organize and divide your content
Sections are the building blocks of a page, and you can use them to divide and organize your page's content. For example, you may have a section for your company's services, and another for your contact details.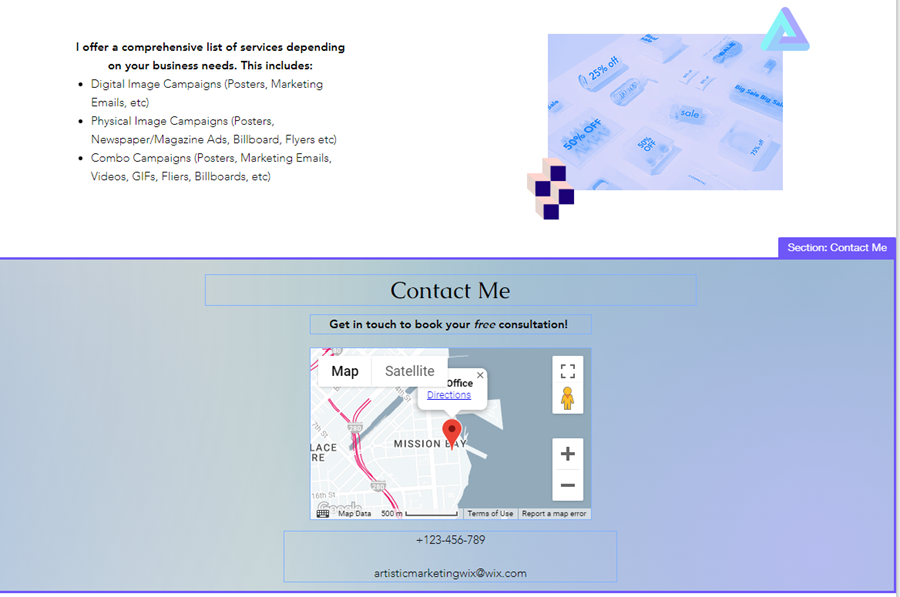 ---
Get started with our pre-designed sections
In the Editor, you can add a blank section to start from scratch, or choose from a variety of ready-made designs. The sections are organized by topic (such as Promotion, Team, List, etc), and include handpicked elements to help you get started.
Did you know?
Sections span the full width of your visitors' browser and maintain their grouping when visitors view your site on mobile devices.
---
Design your section for your needs
You can customize any section you add to your site, whether it's pre-designed or blank. Choose the background and size to make it look how you want, and add scroll effects to create unique, eye-catching content.
Learn more about customizing your sections
---
Adjust sections to mobile
Sections you've added on desktop automatically appear your mobile site. However, you may want to change the order in which they appear on your mobile site, or even hide certain sections. These changes don't affect the desktop version of your site.
Rearranging your sections on mobile is a great way to adapt and customize which information your visitors see first. For example, you may want to highlight your business' phone number by moving that section to the top of your home page.
Ready to get started?
Click
Add Section
on the left side of the Editor to add and set up a section on your site.
Learn more about adding sections