Social Media Marketing: An Overview
Take control of your online presence and engage with your audience using your Social Media Marketing dashboard. Create different types of content (image or video) and publish directly to your social accounts. Or, take advantage of the scheduling tool to get your content out there at a time that suits your business best.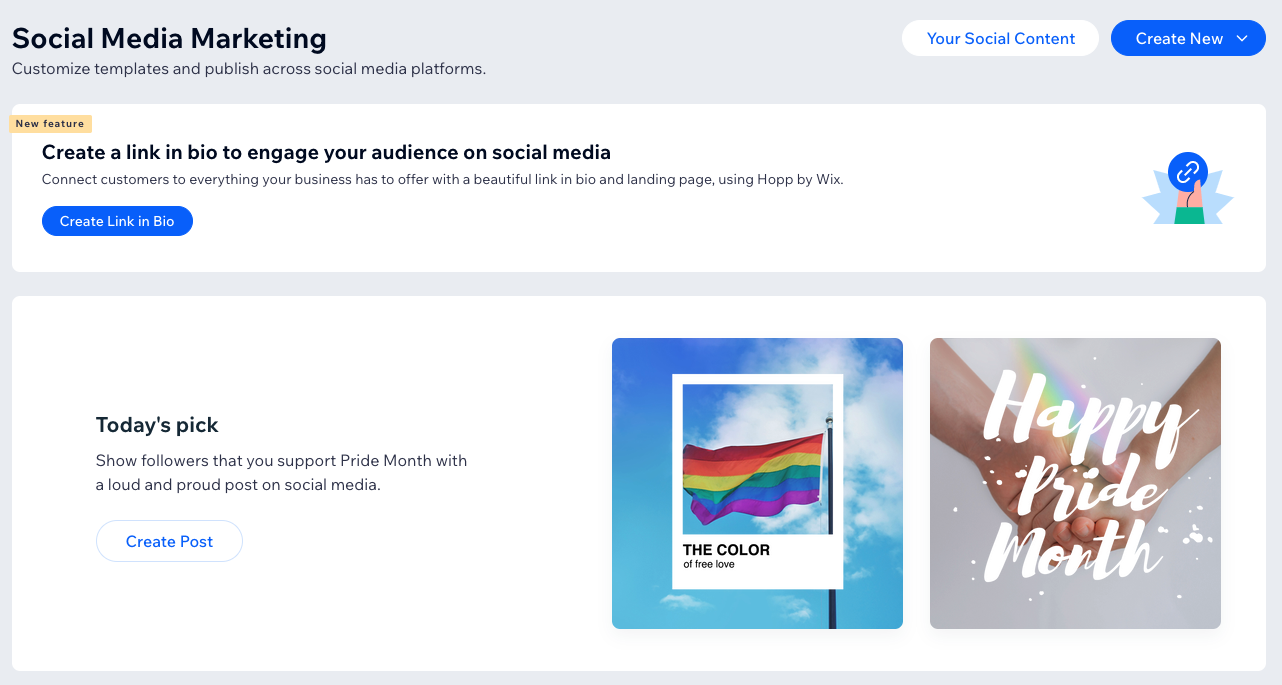 ---
Use pre-built templates or start from scratch
Choose from a selection of design built social post templates for both image and video posts. Or, you can start totally from scratch, giving you more flexibility when it comes to putting your personal stamp on your social branding. Learn more about
creating and customizing social posts
.
---
Get ahead using Vimeo's editing features
Wix Video has partnered with Vimeo to allow you to create beautiful videos to share on social media. Add more dimension to your online presence by posting videos created with Vimeo. Vimeo gives you access to tons of customization options when it comes to creating videos.
All of your videos are saved to the Wix Media Manager, allowing you to easily use your new content across your site. Learn more about
creating videos with Vimeo
.

---
Publish directly to multiple social platforms
Save time and expand your online presence by posting on multiple platforms. This allows you to engage with different subsections of your audience on whichever platform they spend the most time.
Post your content where it makes most sense. Perhaps you have an image post that will engage your Facebook and Instagram audience. Or, you might create a video post that you think will speak to your LinkedIn and Twitter followers.
---
Create content and schedule it for later
Schedule your posts to send to your audience at a time you know they will see it, such as early in the morning on their commute to work. Take advantage of a creative flow and create multiple posts and set them to send over the next few days or weeks.
---
Increase your site traffic with your social content
Now that you're creating your social content and spreading it across your platforms, use your posts to increase traffic to your site. Include a link to your site in your social posts. Anyone who visits your site through this link will be included in your site's Traffic Overview report. Learn more about
analyzing your site's traffic
.