CMS: Adding and Setting Up an Address Input Element
Important:
This element is not yet available in Editor X.
The Address Input element allows you to use Google's address search and address auto-fill features right on your own site. Add the Address Input element to
forms built with user input elements
and allow Google to auto-complete any addresses your visitors enter on the form.
To add and set up your Address Input element:
Click Addon the left side of the Editor.
Click Input.
Click Address Input.
Click and drag the Address Input element of your choice.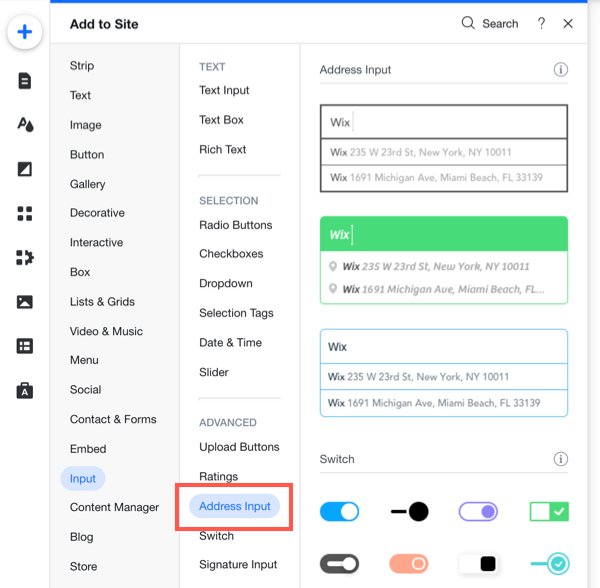 Click the Connect to CMS icon .
Click the Connect a dataset and select a dataset from the drop-down.
Note:
"Write" dataset permissions allow visitors to add their addresses to your database collection. "Read" dataset permissions can be used to display an address on your site from your database collection. Learn More.
Click Value connects to: drop-down and do one of the following:

Select your address field if you already have an address field in your collection.
Add an address field if you don't yet have an address field in your collection:

Click Add a new collection field.
Enter a name for the Field, (e.g., Address)
Click the Field Type drop-down and select Address.
Click Add.
Tip:
Click
Layouts
and
Design
icons to change the alignment, colors and fonts of the element.