About Your Wix Dashboard
Your dashboard is your site's management hub. Here you can access all your site's tools and information in one centralized place. The dashboard is visible only to you and any collaborators you have working with you.
You have a designated dashboard for each individual site you create. It gives you complete access to your site's data, business management tools, and advanced performance insights such as SEO performance, sales reports, your site traffic overview, and more.
Having all the important info like your online store's latest open orders in one place, helps you stay on top of tasks related to your site's upkeep.
Click to go to your site's dashboard.
---
Get your site up and running
To help get the most important parts of your site up and running as quickly as possible, Wix automatically prepares a list of steps for you to complete. This list is located in the dashboard Home page.
The content in this list is dynamic and changes based on how far you are in the setup process of your site and what business intent you choose. Here you'll find steps relevant to the apps you're using, prompts to connect your very own domain and a link to the Wix SEO Wiz to get you ranking on search engine results pages.
During setup
During the setup process, you can see a list of steps that you need to complete to get your site and business up and running.
After setup
After you've completed the setup steps, your dashboard suggests useful apps, tools, and resources to help drive traffic to your site and increase conversions.
You'll also see AI suggestions tailored to your goals with the milestone widget. Based on your target to either increase site visitors or sales, you'll see different actions you can take to get there.
---
View your site's information
Get a quick overview of your site's basic information (site name, published date, domain attached etc.) from the Site & App section. The Website tab gives easy access to tools to edit and manage your website, check your site speed and more.

From here, you can also work with the Mobile App's tools to improve your members' experience on mobile, and create and manage your very own branded app.
---
Detailed overview of your site activity
Your Activity Feed shows you all the recent activity happening by your Contacts and Members, on your site. You can see all activity that happened in the last 30 days, sorted by priority or by time. This allows you to quickly shift focus to the most important tasks. Sort by priority - Action required, Daily updates, attention required and general updates. Or by date - the most recent activities first.
What activities can I see on my feed?
---
Save time with shortcuts
Save yourself time when managing your site by using the most popular shortcuts listed in the Site Actions list.
From this handy shortcuts list, you can take quick actions like duplicating, transferring and renaming your site. You can also add collaborators, change the owner of your site, and even take the first step to rebuilding your site with Editor X.
You can find the Site Actions list on the Home page of your dashboard when you click the More Actions icon at the top.
---
Change your site's settings
From the Settings section of your dashboard, you can connect your domain, update your business information, and manage settings for Wix apps and privacy. You can also access your custom code, invite collaborators to work on your site, manage member login, and much more.
The options available on your Settings page depend on the Wix apps you use on your site. For example, if you use Wix stores, you can update your eCommerce settings and accepted payment methods.
---
Get business performance insights
From the Analytics & Reports section, you can get in-depth information and reports on your site's performance. Learn how much traffic your site is generating, how effective your marketing strategy is, get detailed reports on sales and payments, and much more.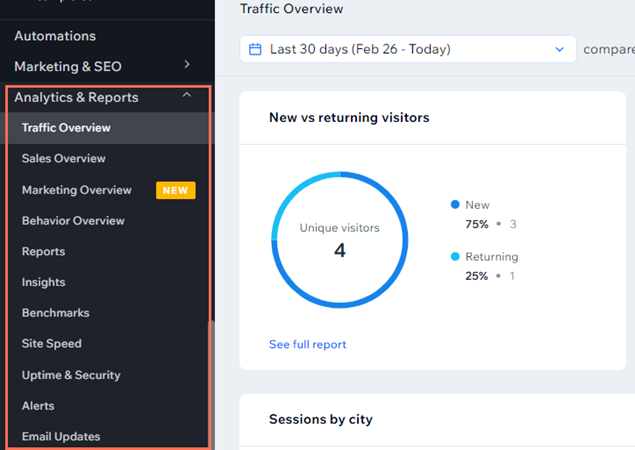 ---
Manage your customer relationships
Manage your customer relationships from the Contacts, Communications and Automations sections in your dashboard. From here you can manage your contacts, form submissions, inbox, and even set up automated emails, tasks and more.
Click a tab below to learn more about each section:
---
Improve your site's SEO
Rank higher on Google and improve your site's discoverability using our suite of tools in the Marketing & SEO section.
Customize your pages and meta tags for SEO, learn how Google views your site and troubleshoot pages not appearing correctly in search results. You can also view your site's XML sitemap index and learn how it's optimized for you, and redirect site visitors and search engines from an old URL to a new one.
---
Manage your Wix apps
The dashboard is also home to many of the Wix apps you add to your site. Depending on the apps you add, you'll find them in the sidebar of the dashboard, tucked between Site & App and Contacts.
This is where you manage the features and settings of your apps, so that they work just how you want them to on your live site. While working in your Editor, you are directed to this part of your dashboard when you choose to manage your app.