Wix Multilingual: Translating Your FAQ
Using the Wix FAQ app and Wix Multilingual together, you can translate your FAQ content into a variety of languages. This means that your site visitors choose to read your FAQ's in a language that they understand.
---
Step 1 | Add Wix Multilingual to Your Site
First, add and set up Wix Multilingual. You can add Wix Multilingual from your Editor, your site's dashboard, or from the Wix App Market.
---
Step 2 | Translate Your FAQ
After you've added Wix Multilingual to your site, you can translate your FAQ questions and categories.
To translate your FAQ:
Click the Switch Languages panel at the top of your Editor.
Click Manage Languages.
Click Your Business Content.
(If necessary) Click the language drop-down to select the relevant language.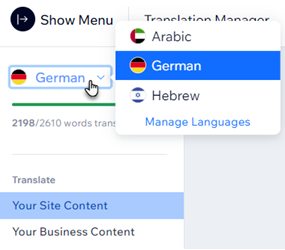 Click the Wix FAQ drop-down menu.
Click Translate next to Categories or Questions & Answers.
Click Translate next to the relevant category / question.
Enter your translation in the relevant field. Or click the Google Translate icon to automatically translate. Once you have reviewed the translation, click the checkmark to save your changes.
(For Answers) Click View and Edit Translation and enter your translation.
Click Save.
Click Next Item to move to the next category / question.