Wix Forum: Limiting Specific Categories to Paying Subscribers
Generate income from your forum by offering paid subscriptions to exclusive categories. Create a pricing plan to allow only paying members access to these categories where they can participate in discussions with like-minded people.
Tip:
Click
here
to learn more about Pricing Plans.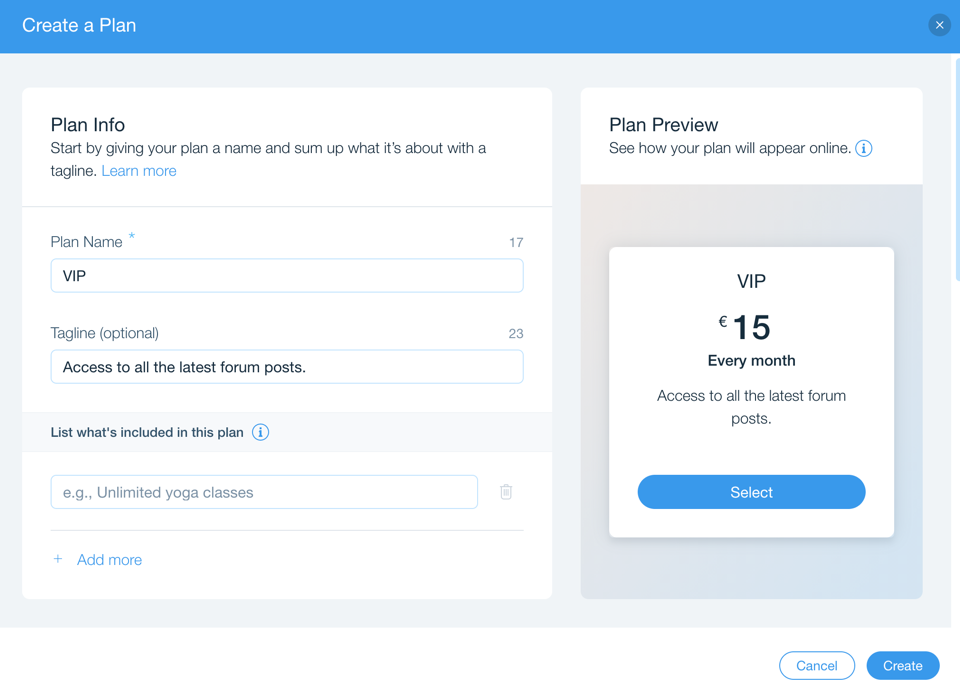 To set up a category subscription in your forum:
Go to your forum in your dashboard.
Click the Categories tab.
Do one of the following:

Create a new category
Select an existing category

Scroll down to Access and click Selected Members.
Click Add next to Subscriptions.
Click Create New Plan.
Enter the Plan Info.

List the benefits included in the plan.
Click +Add More to add more benefit options.

Choose which categories are included in the plan.

Click Add Category.
Select the category from the drop-down.

Scroll down and choose the Pricing and Duration of the plan.

Select a pricing and duration of the plan.
Enter the payment details.

Click the Enable free trial toggle to enable or disable a free trial:

Enabled: Customers can try out the plan before paying. Click the drop-down to select the length of the free trial.
Disabled: Customers must pay before they can access your forum category.

Click the Single purchase only toggle to enable or disable it:

Enabled: Customers can only purchase one plan.
Disabled: Customers can purchase multiple plans.

Click the Allow plan cancellation toggle to enable or disable it:

Enabled: Customers can cancel their plan at any time.
Disabled: Customers cannot cancel their plan.

Click the Custom start date toggle to enable or disable it:

Enabled: Customers can select a specific date for their plan to start on.
Disabled: Customers start their plan from the date of purchase.

(Optional) Add Plan Policies.
Click Create.