Wix Analytics Traffic, Sales, and Behavior Overviews
Wix Analytics Overviews display your site traffic, sales and customer behavior metrics in concise visual summaries. Each overview is presented in tiles to allow your most important data to be available to you at-a-glance, and you can select different time periods to show how your metrics have changed over time.
Learn more about your Wix Analytics Overviews:
How to access your Wix Analytics Overviews
---
Traffic Overview
Your Wix Analytics Traffic Overview shows your site's traffic metrics, including:
Site Sessions: A session is a web visit of a site visitor. A session starts when a visitor reaches your site, and ends after 30 minutes of inactivity. In each session there can be multiple page views and actions performed by a visitor, and each visitor can visit more than once.
Unique Visitors: A Visitor is a person who visited your site, unique by device and browser. Therefore, if the same person visits from 2 different devices, they will be counted as 2 different visitors.
Average Session Duration: How much time on average each session lasted on your website.
Top Traffic Sources by Sessions: Which sites are driving traffic to your site.
Sessions by Device: The amount of visitors to your site using a desktop, mobile, or tablet.
Top Pages by Sessions: Shows which pages on your site are visited the most.
New Vs Returning Visitors: Amount of new visitors, returning visitors, and the total Unique Visitors to your site.
Sessions by Country: Which countries your visitors are located in when they visit your site.
The difference between contacts and visitors:
A visitor's details are unknown except for their device and browser.
A contact is a visitor that has provided information about themselves, such as name, address, and email. This information is collected through an interaction on your website, such as submitting a contact form, subscribing to a newsletter, or buying something. A contact can also be created manually by adding their details to your contact list.
---
Sales Overview
Your Wix Analytics Sales Overview displays your site's sales and transaction information, including:
Total Sales: The total amount of money expected from any type of sale, before deducting refunds, shipping and taxes. This includes both online and manual payments.
Total Orders: The total number of orders you received (including orders that weren't paid yet).
Average Order Value: The average amount of money customers spend per order. This is calculated by dividing total sales by the number of orders.
Sales over Time: See how your sales are performing in a selected period compared to previous periods.
Sales by Traffic Source: Find out which sites, search engines, and social media sites drive traffic to your site.
Top Selling Items: Discover which of your products, tickets, services and subscriptions are most popular.
Top Paying Customers: Find out which of your customers has paid or ordered the most from your site.
Sales by Billing Location: See where your customers are located, and how specific locations are performing.
New vs Returning Customers: Find out how much of your site traffic is from new and returning visitors.
Sales by Coupons: See how your discount coupons impacted sales.
Tip:
Click on a country within the Sales by Billing Location map to find sales data by state and city.
---
Behavior Overview
Your Wix Analytics Behavior Overview demonstrates your visitor engagement data, and links to full reports for deeper analysis. The information on your overview includes:
Average Pages Per Session: How many pages on average were visited during each session.
Bounce Rate: The percentage of visitors that leave your site after viewing just one page.
Average Session Duration: How much time on average each session lasted on your website.
Top Navigation Flows: How your site visitors navigate around your site pages.
Most popular pages: The pages on your site which receive the most traffic.
Most Time Spent: The pages on your site which visitors spend the most time on.
Most exited page: The last page your visitors see before leaving your site.
Store conversion funnel: Each step in your sales funnel, from site sessions to conversions.
Abandoned carts: Carts that did not go through checkout.
Recoverable carts: Carts that can be recovered by contacting the customer.
Recovered carts: Carts that were eventually processed.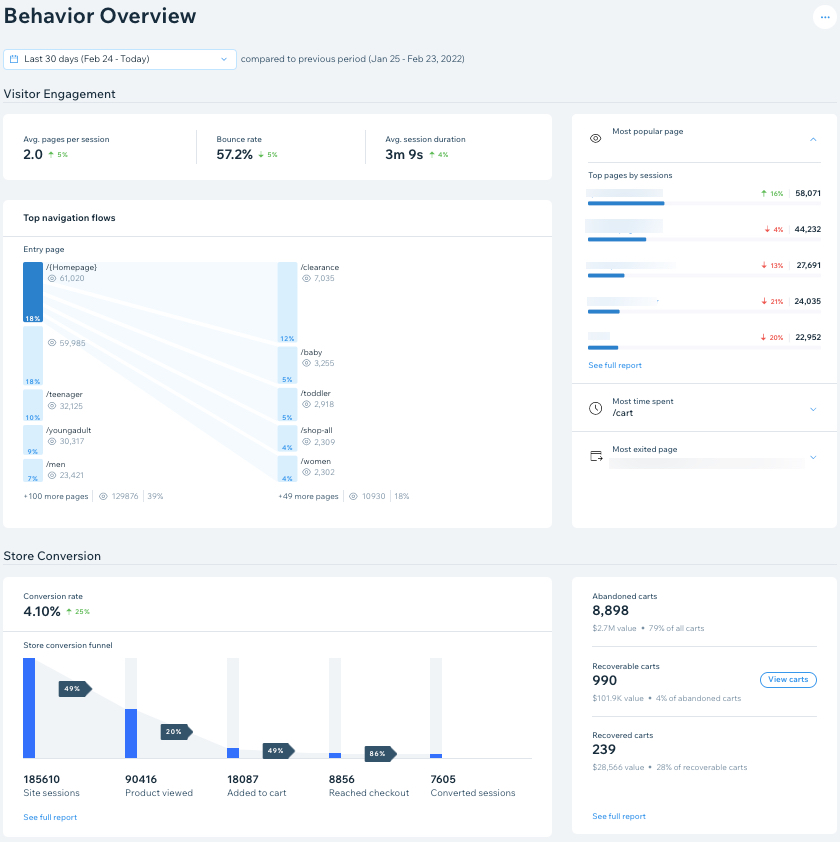 For sites collecting lead data, you can see information about your leads, including:
Clicks to contact: Site sessions where a visitor clicked to contact you via WhatsApp, phone or email.
New leads: Visitors who shared their contact details, or started a purchase but didn't complete it right away.