Wix Forms Request: Automatic "Other" Option For Checkboxes and Radio Buttons
Currently in Wix Forms, if you're using the checkbox or radio button fields to create multiple section options, there is no 'other' option that appears as one of the choices.
You can manually edit one of the options to say 'Other,' but it does not appear automatically.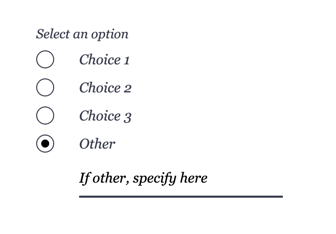 We are always working to update and improve our products, and your feedback is greatly appreciated.
If this is a feature you would like to see in the future, please click Follow this Feature Request and we'll make sure to keep you updated.
Note: All information, including planned features and time estimations, are purely informative and are subject to change or cancellation at any time at Wix's discretion. They do not represent a promise, commitment or guarantee of future availability or implementation, and should not be relied upon in making purchasing decisions.