Wix Blog: Featuring Posts in Wix Blog
Hand pick specific blog posts that you want to feature. You can display featured posts anywhere on your site using a Post List. You choose where you want it to appear, how it looks and which posts to feature.
What's the difference between featured posts and pinned posts?
Featured posts: Featured posts can appear on any page of your site. You can choose exactly which individual posts you want to feature and add a custom feed to display those selected posts.
Pinned posts: Pinned posts are "sticky posts" that appear in your regular blog feed. Because they are pinned, the stay at the top of your feed even after you publish newer posts. Learn more
---
Step 1 | Add the Post List element to your site
A Post List is a blog add-on that lets you display a specific group of posts (e.g., featured posts) anywhere on your site. Go to the page you want to place the featured posts on and add the Post List add-on from your Editor's Add panel.
To add the Post List element:
Navigate to the page you want the Post List to appear on.
Open the Add + panel:

Wix Editor: Click Add on the left side of the Editor.
Editor X: Click the Add icon on the top bar of the Editor.

Click Blog.
Click Post List (Large) or Post List (Sidebar).
Scroll through the available layouts and click the one you want to add.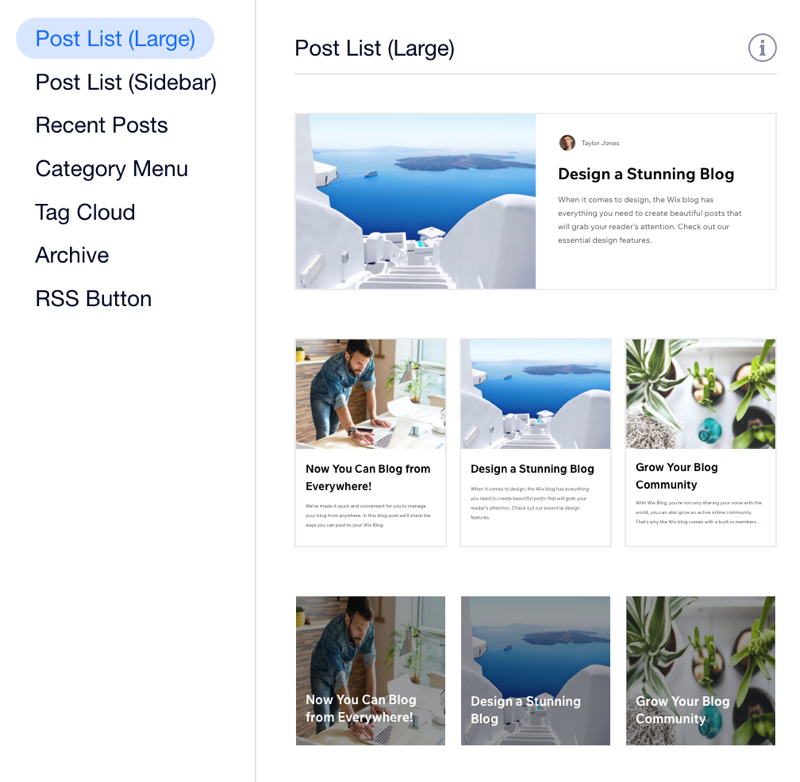 ---
Step 2 | Set your Post List to display featured posts
You can set the Post List to display any posts you want. To display featured posts only, select this option in the Post List settings.
To set the Post List to display featured posts:
Click the Post List in your Editor.
Click Settings.
Click the Settings tab.
Enable the Show Featured Posts only toggle.
Tip:
You can also set the Post List to display posts from a specific category or tag, and set the number of posts you want to display. Learn more about
setting up a Post List
.
---
Step 3 | Customize the look of your Post List
This part is up to you. You can choose what information appears on the Post List, change the layout or customize the design. If you're happy with how your Post List looks, you can skip to the next step.
To customize the look of your Post List:
Select the Post List in your Editor and click Settings.
Choose what you want to customize:
---
Step 4 | Set some blog posts as "featured"
In order to display featured posts in your Post List, you'll need to mark some of your posts as "Featured". You can do this while creating or editing a blog post under Post Settings in the Blog Post Editor.
To set posts as "featured":
Go to Blog in your site's dashboard.
Click Create New Post or hover over an existing post and click Edit.
Click the Settings tab on the left side panel.
Enable the Set as Featured Post toggle.