Wix Blog: Becoming a New Blog Member and Joining the Blog Community
Important
This article is intended for blog sites that have the new Wix Members Area.
Learn More
The Wix Blog works together with the Members Area to give exclusive features to signed in members. When you add the Members Area to your site, anyone visiting can sign up as a member (you can require
manual approval
if you don't want to let everyone in).
Signed in members gain access to members-only pages. If you limit your blog page to members only, only signed in members will be able to access it. However, the Members Area offers an additional feature to blog readers - joining the community.
By joining the community, members can comment, follow posts and more. In addition, their profile appears on your Members Area page and other members can see them there.
There are three ways someone can join your community:
---
Joining the Community When Signing Up
When a site visitor clicks the Sign Up button on your site, they reach the Sign Up window. Here, they can automatically become part of your site's community by selecting the Join this site's community checkbox.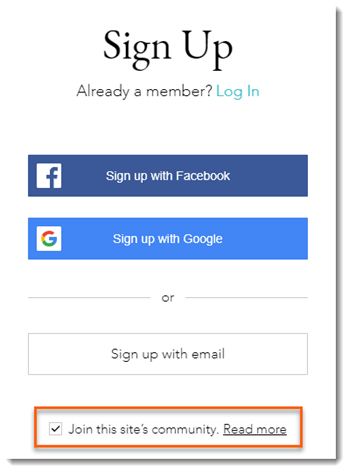 Want to encourage more people to become part of the community from the start? You can set this check box to be selected by default.
---
Joining the Community When Commenting on a Post
Members who have not yet joined your community cannot comment on your blog posts. When they try to comment, they see a pop up prompting them to join.
---
Joining the Community from the My Account Page
Every visitor that becomes a site member get their very own My Account page, where they can view and edit their personal information. This page also includes a Join Community button which allows them to join your community at any time.
---