ADI: Using Wix ADI Tools to Edit Your Site
If you have an existing ADI site, you can customize your site design, add new sections and pages, optimize your site structure, and more using the tools available to you in the ADI Builder.
In this article, learn more about the following ADI tools:
---
Top bar tools
Learn about the tools available to you in the top bar of the ADI builder.
Tools available:
Pages menu: View your site pages and click a page to access it. Click the Settings icon next to a page to customize its settings.
Add: Add new sections, pages, or apps to your site. We have hundreds of ready-made stunning sections and pages for you to add.
Design: Customize the Themes, Colors, Fonts and Animations on your site. You can even choose a new page design from here.
Manage apps: View and open the apps you've added to your site and mange your Business Tools.
Undo and redo Icons : Undo and redo your actions. You can also use the keyboard shortcuts, Ctrl + Z and Ctrl + Y (on a mac press Cmd + Z or Y).
Device view : Switch between the desktop and mobile view of your site.
Help: Get answers to frequently asked questions.
Site: Manage your site, business information and view your live site.
Notifications : Find out if something needs to be updated on your site.
Upgrade: Purchase a Premium plan for your site. An upgraded site has many benefits including the ability to connect a domain, removal of Wix ads, and access to Google Analytics.
Preview: Preview your site to see what it looks like on desktop and mobile devices.
Publish: Click to make your site go live on the internet.
---
Site structure tools
Learn about the tools available to you when structuring your site.
Tools available:
Zoom In and Out Icons : Zoom in and out of your site as you are creating it so that you can see more or less of your site for your convenience.
Reorder tools : Click the Move Up and Move Down arrows to reorder sections on your site.
Add New section icon : Click the Add New Section icon to open the section panel and add more info to your site.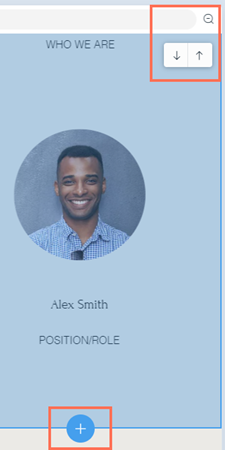 ---
Section tools
Learn about the tools available to you when editing a section on your site.
Tools available:
Edit: Click a section and select Edit to make changes to its content.
Design: Change the layout of a section.
More Actions Icon : Click to access the section options:

Duplicate: Make a copy of the section.
Move to: Move the section to a new page, or an existing one.
Adjust height: Change the size of your section by clicking the Plus (+) or Minus (-) icons on the left.
Delete: Delete the section from your site.