Wix Logo: Creating a Logo with the Wix Logo Maker
Creating a logo and defining your brand identity has never been easier. The Wix Logo Maker has tons of designs to offer, based on your line of business and the look and feel you want to achieve. Tell us a bit about yourself, then choose a design you like and customize it to your needs.
Note:
Before you get started customizing your logo, we recommend that you take time to review our Logo Maker
best practices
. This can really help avoid any potential design issues in the long run.
---
Step 1 | Tell us about your business and brand
Your logo is a visual signifier of your business, the industry you're in and your branding. The very first step of creating a logo is filling in your information – tell us about your business, but also about the way you'd want it to be perceived, as a brand.
Once you do, we can provide dozens of options that could suit your needs.
To get started and fill in your info:
(If you've created a logo before) Click + New Logo then click Create a Logo.
Add your business name and tagline:

Enter your business name (up to 50 characters).
(Optional) Click Add a tagline and add a catchy line about your business.
Click Let's Go.

Choose your industry:

Start typing the name of your industry.
Select your industry from the drop-down.
Click Next.

Give us a feel for your brand:

Choose the relevant keywords for your business.
Select the adjectives that suit you or your brand.
Click Next.

Click the design sample you prefer. Alternatively, click I don't like either of them if both samples don't match your style or click Skip.
Note: These samples are intended to help us get to know your style. They are not the actual designs that you'll be presented with at the end of the process.
Help us understand your branding needs:

Click the relevant places where you'd use your logo (you can select more than one). Click Other if you can't find the relevant option in the list.
Click Next.
---
Step 2 | Select your logo
Once you've provided some business details and made your selections, choose from a wide range of logo options. Remember – the design you're choosing at this stage is a template that you'll customize to your exact needs in the next step.
To select your logo:
Scroll through the available logo options and click one to begin working with it.
(Optional) Click See Other Icons if you would like to choose a different icon from the available list.
---
Step 3 | Customize your logo
After choosing a logo option, you're redirected to the Logo Maker. This is where you can edit the logo and make it your own. Change the colors, fonts and positioning, or adding more symbols and your own images.
To customize your logo:
Go to My Logos in the Wix Logo Maker.
Hover over the logo you want to customize and click Edit.
Click the tabs on the left to customize your logo:

Palette: Select a new color palette for your logo. Color palettes come in presets of 4 colors. You can change the individual colors in the other tabs.
Text: Customize the business name and tagline. (There is a 50-character limit for each).
Icon: Click the Add icon to add an icon to your logo.
Shape: Click Add Shape to add a shape to your logo.
Uploads: Click Upload Image to add your own image to your logo.
Note: Currently, you can only upload .JPEG and .PNG images with a maximum size of 500 MB.
Background: Your logo comes with a white background by default. Use the color picker to change the color.
Learn more about the customization options available in the Logo Maker

(Optional) Click the navigation arrows at the top to preview your logo in desktop and mobile views, or printed on bags and business cards.
Click Next at the top right when you're ready to purchase and download your logo.
---
Step 4 | Choose your logo plan and purchase your logo
To purchase your logo:
Choose the logo plan type you want:

Just Logo: Click I Just Need a Logo.
Logo + Website:

Choose from 3 website templates: Online Bookings, Basic Website or Landing Page.
Click Get My Logo + This Website.

Click Select on the plan you want.
Enter your payment details and click Submit Purchase.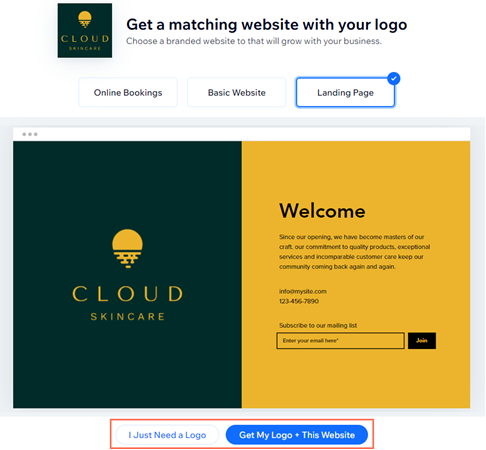 ---
FAQs
Click a question below to learn more about creating a logo with the Wix Logo Maker:
How can I save my logo design?
Can I see an example of what I'll get before purchasing a plan?
Does the dotted background of the Logo Maker Editor show in my purchased files?
Can I fill the entire background of my logo with an uploaded image?
Can I create an animated logo?