Third Party App: MarketPush Cart Recovery by MarketPush
MarketPush Cart Recovery is an app that enables you to recover abandoned carts with the use of Facebook messages. It aims to increase your store sales by sending reminders to customers that did not checkout their order. The reminders contain a direct payment link for the previously lost order.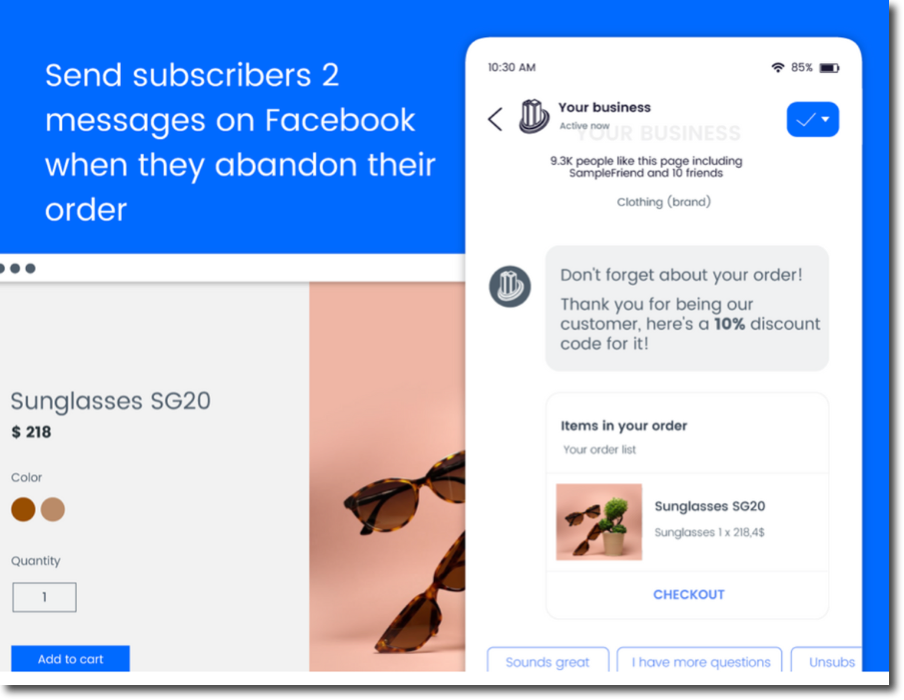 Features and benefits the app include:
Recover lost sales with Facebook messages. Send two Facebook messages to customers that abandoned a cart on your Store.
Add to your website a "subscribe to Facebook" popup that will enable customers to receive Facebook reminders on their abandoned orders.
Customize the Facebook messages that will be sent to your subscribers, as well as the times these messages should be sent in order to maximize conversions.
Monitor and track the recovered lost sales and the impact this app will have on your cashflow.
Important:
You need to connect your Facebook Page to the app. The app provides a customizable popup that is shown on your website which encourages visitors to subscribe to Facebook notifications from your Store.
Any visitor that subscribed to the notifications, but didn't finalize the order, will receive up to two Facebook messages within the next 24 hours that will remind them of the forgotten order.
For questions and comments, contact MarketPush directly:
Website: https://www.cart-reminder.com/
Email: contact@marketpushapps.com